As technology continues to evolve, the traditional credit process is becoming more and more obsolete in the 21st century. Credit professionals are turning to automated and digitized processes and workflows to free them from tedious, paper-intensive processes. In the accounts receivable (AR) sector, paper invoices are a thing of the past, because automation technology is the future, and it is transforming the way businesses handle B2B transactions. This technology, such as e-invoicing software and automated collections workflows, will help you get paid faster, heighten security and improve efficiency — making you more productive than ever without sacrificing accuracy.
One way that AR departments have been leveraging technology in their processes is through e-invoicing software.
Electronic invoicing, known as e-invoicing, is — just as the name suggests — a form of billing between a supplier and buyer that is all completed and delivered digitally. It serves as a notification of payment and typically includes contact information of both buyer and seller, date of service and amount owed.
Essentially, e-invoicing software takes the process you already have in place and digitizes it. The largest benefit is that, whether through email or an online portal, your customers receive invoices far faster than with a traditional system.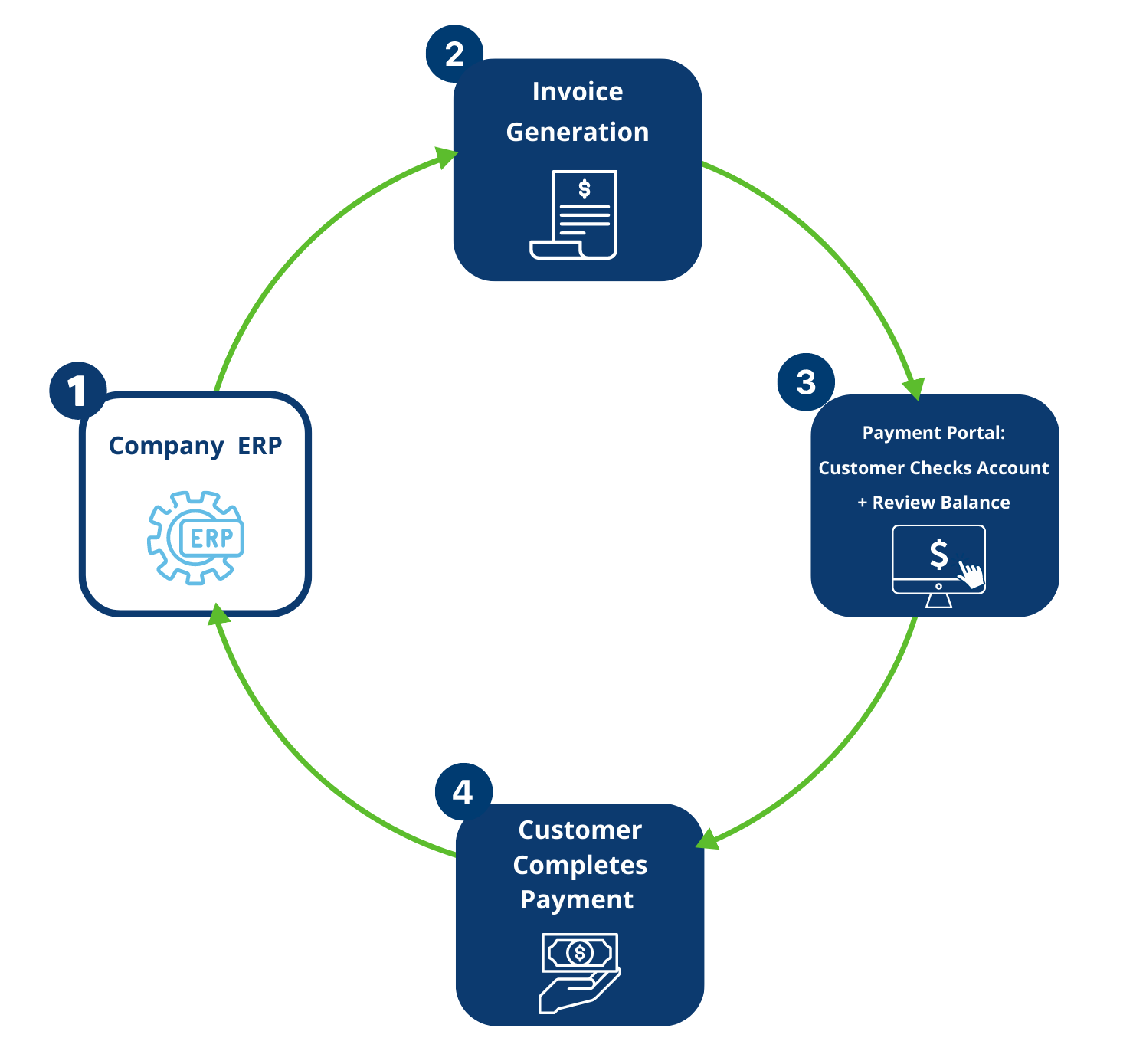 But invoicing is only one aspect of the accounts receivables process and, much the same, e-invoicing software is only one step in the direction of truly elevating your AR workflows. While e-invoicing software digitizes the invoices and securely stores them electronically, making them more accessible for your team, a fully automated suite of AR tools would handle not only invoicing but also billing, claims, disputes resolution and payments.
Additionally, a robust AR automation platform provides customers with secure portals to pay their outstanding balances, review upcoming payments, check account history and more all in one comprehensive location. With SaaS solutions, such as Bectran's Accounts Receivable suite, all your customer data is stored within your ERP provider and you're better able to see account data at a glance while the system automatically generates more invoices — and in some cases, even automatically applies cash to outstanding balances.
What is the difference between an e-invoice and a digital invoice?
Do you remember the old saying, "A square is always a rectangle, but a rectangle is not always a square?" In this scenario, the e-invoice is the square and the digital invoice is the rectangle. Simply put, an e-invoice is a form of digital invoicing.
The important distinction between the two is that while digital invoices are sent electronically, usually in the form of a PDF, and are an alternative to paper invoices, they have very limited capabilities. E-invoices are more advanced and offer far more features and benefits than a digital invoice, particularly the ones mentioned above. Also, the ability to integrate with CRM software and streamline manual processes for efficiency gains are additional valuable reasons for adopting e-invoicing.
Essentially, the digital invoice was the first rung on the ladder of reaching toward utilizing technology. E-invoicing software is another rung, but the true pinnacle of leveraging the power technology offers is through a suite of tools that automates all manual processes, securely stores and processes billing information, matches payments to invoices, manages dispute resolution and more.
Why is adapting e-invoicing beneficial?
The obvious benefits of e-invoicing software, and the reason it's been adopted so readily by AR departments, is the boost in both productivity and efficiency. Its ability to help eliminate human errors, such as calculation mistakes, typos and invoice duplication, is another massive selling point.
But the largest value e-invoicing software offers is its ability to work with automation software to automate the payment process. When companies are still relying on outdated, manual methods, it's easy for payments to be overlooked, misapplied or duplicated. Machine learning within automation software avoids this problem, which will not only speed up the process and save your company money, but it will also make it easier for you to track and record transactions.
This increased efficiency and added layer of transparency helps keep your customers content while also protecting your own assets. And the additional oversight and reporting will also help you mitigate risk by detecting trends and enabling more predictive analysis.
What value can Bectran add?
Bectran's comprehensive suite of AR solutions seamlessly integrates with technology like e-invoicing solutions, creating a frictionless experience for both you and your customers. For example, Bectran integrates with all major payment gateways so that your customers can continue using the methods they prefer. The software then effortlessly applies cash and closes invoices without logging into separate systems, eliminating friction on both sides to achieve a smoother accounts receivable process.
Additionally, Bectran's automatic payment feature, with the customer's consent, can execute payments based on pre-configured profiles, ensuring convenience and accuracy. With autopay, payments are guaranteed to arrive on time resulting in no cash flow interruptions and allowing you to focus on maintaining a competitive edge.
Similarly, with Bectran's intuitive tracking and scoring system, you gain real-time visibility into the status of your invoices, equipping you with full control over your financial transactions. Bectran's enhanced scoring capabilities provide invaluable insights, helping you identify potential risks, proactively address them and enhance your decision-making capabilities.
Using e-invoicing is guaranteed to boost efficiency and accuracy for your business, but Bectran takes it a step further by offering a comprehensive end-to-end solution that can transform your entire accounts receivable process. Bectran's full AR suite can decrease the cost of collections and accelerate cash flow.
The Bectran Solution
Bectran's automation solutions not only help you increase your cash flow but also provide you with more time to focus on other strategic initiatives. Explore Bectran's AR automation solution and see how the platform can positively impact your business by requesting a personalized demo.
Social Media Links: Twitter | LinkedIn
Bectran is a registered trademark of Bectran, Inc.
-
Media Contact
marketing@bectran.com

The views expressed on this blog are those of the author and do not necessarily reflect the views of Bectran. This blog may contain links to content on third-party sites. By providing such links, Bectran does not adopt, guarantee, approve or endorse the information, views or products available on such sites